New York City, the big apple, the city of dreams–whatever you want to call it, we can all agree that three days in New York City is definitely not enough time to see all that it has to offer. Nonetheless, there's still plenty of action you can squeeze in within a small time frame! I had to the chance to fit in a super quick visit to New York over the summer, so today I want to share with you my absolute musts when you only have three days in New York City.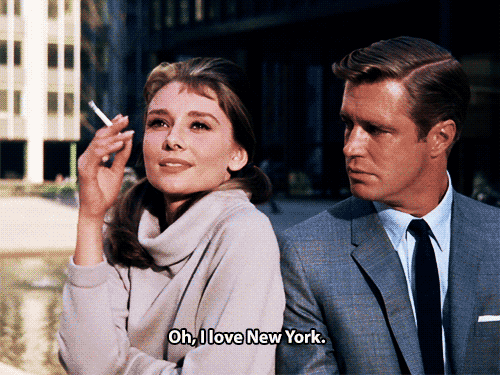 What To Do When You have Three Days in New York City
DAY ONE
Check-in to Z NYC Hotel
I'm always a big fan of Airbnb while traveling, it's a great way to save on money when you have a kitchen at your disposal. But, if you're only staying in New York for 72 hours, are you really going to want to make the effort of getting groceries, cooking, and cleaning up after yourself? I didn't think so. Instead, immerse yourself in the city as much as you can and try as many food trucks, restaurants, and hot dog stands as possible.
I found that price differences in high season between Airbnb's and hotels weren't very big. My husband and I stayed at the Z NYC Hotel. It's a 4-star hotel in Long Island City featuring a rooftop bar. Did I mention rooms have a view of the Manhattan Skyline? But, beware there is a "resort fee" of $25/day. This fee covers continental breakfasts in the morning, transportation to and from Manhattan via their shuttle bus, international, domestic phone calls and more.
To be honest, resort fees are one of my biggest pet peeves when it comes to hotels, but averaging everything out, we still found Z NYC Hotel to be a better deal compared to our other options when looking around, especially with the perks of included breakfasts and the views from the rooftop bar. We didn't take advantage of their shuttle bus too much (you had to reserve spots beforehand) and found the subway to be more convenient most of the time. Through hotels.com, we were able to get Z NYC Hotel for €124/night including taxes. The resort fee was then billed to us when we checked out of the hotel.
Have Dinner at Casa Enrique
Just a short walk away from Z NYC Hotel lies the Michelin starred Casa Enrique.
Don't let the Michelin star scare you–Casa Enrique is super affordable considering their prestige with mid-range prices. You can get a dish for around $20. While the food here is good, the cocktails are superb. JP and I couldn't stop raving about our margaritas and caipirinhas. Best. Margarita. Of. My. Life.
Make sure to book ahead for a reservation, Casa Enrique's reputation presides itself and they are always busy! If you're not feeling like a full on dinner here, at least stop by the bar for drinks.
Drinks in East Village and Views from the Empire State Building
After dinner, head on over to East Village. This neighborhood is known for its nightlife with its cool bars, cafes, and music venues. This little piece of New York has a certain charm to it that is so worth experiencing. If you still have time after drinks and weather permits, check out views from the Empire State Building which is open until 2 am.
DAY TWO
Morning Coffee at Bryant Park
Start your morning off bright and early with coffee in Bryant Park. Grab a coffee right next door from Blue Bottle Coffee then sip and enjoy at one of the park's many picnic tables.
Walk Over to The Museum of Modern Art (MOMA)
After getting your caffeine fix, walk on over to MOMA, just a 15-minute stroll away. Make sure to get your tickets ahead of time so you can beat the line. If you have a student I.D., bring it with you to all New York museums! Almost all of them have student discounts. At MOMA, student tickets are only $14 versus full priced tickets at $25.
Stroll Through Central Park
Walk on over to Central Park, which is just 7 minutes away. Stop for a cheap and quick lunch fix on your way, we opted for Chipotle on 6th avenue–it filled us up and we didn't have to worry about tipping (after living in France for a few years, tipping is always a cost I forget about) and time. Central Park is huge, so it's easy to get lost and spend a lot of time here. Just beware upon entering, there will be a lot of "guides" trying to sell you tours of the area. Some can be pretty persistent. We said no thank you and that we were locals, which stopped them from bugging us immediately!  Spend as much or as little time as you want wandering around, then head back to the hotel to rest a bit before your big Broadway show.
See a Musical on Broadway
Definitely a splurge, but completely worth it. Seeing a musical on Broadway is a once in a lifetime experience. JP and I got tickets to Aladdin the Musical at the New Amsterdam Theatre and we couldn't stop buzzing afterward (the wine in our Aladdin logo sippy cups may have contributed). There was so much life and energy in the show, amazing effects (mini fireworks even??), choreography and singing. You can try your luck with lottery tickets (Broadway show tickets for a fraction of the price) but if you're not feeling like taking the gamble, go ahead and get your tickets through Ticketmaster. You can get the tickets directly on your phone so you don't have to worry about printing or delivery.
Grab a Hot Dog in Times Square
Just a five-minute walk from the New Amsterdam Theatre lies the one and only Times Square. While you've probably already seen Times Square in movies and tv series, seeing it in person is surreal. This is the part of New York City that certainly never sleeps. You're probably a bit hungry after seeing that musical, so go ahead and have a casual hot dog dinner right in the center of it all. We found a hot dog stand which had a little seating area with tables, but there's plenty of other food stand options too.
DAY THREE
The Metropolitan Museum of Art
The Met is arguably New York's most famous museums. And it's no wonder with their two million piece collection (and that's just their permanent collection). You could easily spend the entire day here. We spent around 4.5 hours perusing and still didn't even get through half of the museum. But even if you can't spend the entire day wandering around, the Met is certainly worth a visit.
Get tickets and reserve audio guides ahead of time, as this museum is always packed. The Met used to be donation based admission, but recently that's changed and now only applies to NYC residents. If you have a student I.D. you'll be able to get tickets for $12 and audio guides for $7. I'd recommend paying a little more and getting the audio guide, otherwise, the Met can feel a bit too overwhelming.
Lunch in Chinatown
Living in Bordeaux, options for good Chinese food are limited. We had to take advantage of New York's Chinatown and stopped by Nom Wah Tea Parlor, which has been around since 1920. The dim sum selection here is delicious. It's a no frills kind of place where you get great value and authentic Chinese grub. We opted for pan-fried dumplings, pork buns, fried rice, sesame balls, and Taiwanese beer. (Keep in mind they only accept cash, so make sure to stop by an ATM first!)
9/11 Memorial
While in New York, be sure to stop by the 9/11 Memorial. If you can't make it to the actual museum, at least stop by the memorial which is free.
The memorial space is so calm and serene, but most of all, moving. The names of every person who died in the terrorist attacks are inscribed in bronze around the two twin memorial pools. White roses are placed on victims' names to remember their birthday and are updated every single day. We spent some time looking at the names and taking a moment.
(Sidenote: I do have to say, while there are many signs around the memorial and officers keeping the space quiet and making sure no one is sitting on the names, I was shocked at how many times an employee had to ask someone to get off the memorial and how many people were smiling gleefully for posing or photos??? Definitely not the place for that…)
Walk Along the Highline
After paying your respects, head on over the to High line, New York's former rail line turned park. The public park is elevated above the streets on Manhattan's West Side, allowing you a taller view of the city's skyline. Walk around to experience nature, art, and design. You can even get a peak of the Statue of Liberty if the weather permits.
Pizza and Beer on Rooftop Bar
After a full day of exploring, we were exhausted. I caved and didn't take advantage of the subway system, and instead called an uber back to the hotel. The rooftop bar was closed that night due to the unpredictable weather, but guests still had access to it which worked out perfectly for us. We just grabbed some beer from a convenient shop nearby and ordered a pizza for delivery, eating dinner and drinking beer on the rooftop while looking over Manhattan.
Goodbye Coffee
On our last morning in New York, we didn't have much time before we had to head out to the airport. We grabbed some of the complimentary coffee from the hotel and took advantage of the rooftop one last time.
Newark Express to EWR
We were flying to France from the Newark Liberty International Airport, not quite as convenient as JFK. After researching all of our options, I decided to opt for the Newark Express. It's a shuttle bus, so we didn't have to worry about lugging out bags through subways or train stations. Tickets are $17 one way or $30 round trip (add on an extra dollar if you order ahead of time online).
We ubered from our hotel to one of the pickup points (there's Grand Central Station, Bryant Park, and Port Authority Bus Terminal). From our hotel, the Grand Central Station option was the closest. The bus took a little over an hour to get us to the airport, not the speediest option, but it was the easiest one for us.
From there, we headed back to France, stopping in Paris first. Our first New York trip together, but definitely not the last.
Have any of you been to New York? What are some of your favorite things to do there?
Let me know down in the comments!
And if you liked this post, be sure to share the love and click the little heart below <3
xoxo
Daley